Innovation at the core
Thermofoam has had a long journey since its foundation in 1994. The company evolved from a garage business into a modern production firm of the latest European standards. The initial products, which were based on the CEO's own patents, gave a solid base for continuous development through decades. Innovation and R&D activities have always been in the focus of the management, leading to our broad scope of business, which enables us to satisfy virtually any packaging needs in industry, as well as to provide modern and innovative construction materials.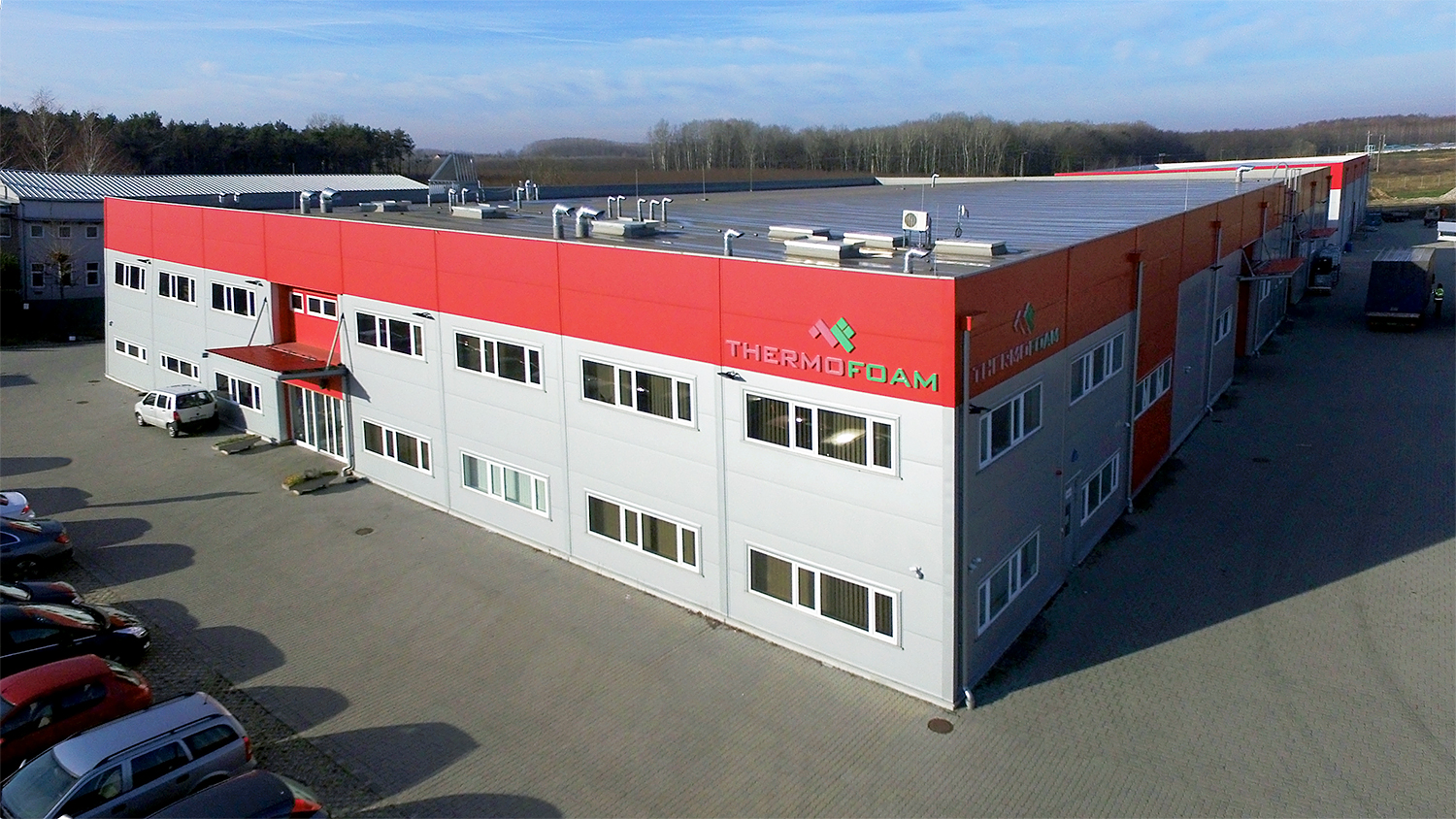 I. Origins
Our operation began with the manufacturing of heat-reflecting foils. There seemed to be a continuous demand for good quality heat reflectors on the emerging Hungarian construction market and it gave rise to our portfolio of Solflex foils, ranging from floor underlays and roof insulating foils to specialty fire retardant sheets. This product family brought financial success to our company and allowed us to apply our expertise in polyethylene foils to other industries; we started the production of converted polyethylene film goods (i.e. rolls, sheets, bags).
III. Design team
Understanding the change in customer behaviour, a team of trained design engineers was set up to tackle the new challenges in the packaging business. They are capable of proactively designing packaging for new products as well as redesigning existing packaging systems to be more cost-effective and eco-friendly. They have won the Hungaropack Packaging Competition on multiple occasion with their innovative design ideas. To assist their job, several investments were made in recent years to modernise and supplement our machinery in order to satisfy needs of all volumes and complexities.
II. The launch of the packaging branch
We already had 40 employees in 2001, when we introduced technical foams into our portfolio. Our packaging branch started converting technical foam. Our wide range of technical foams in use vary in density, cell structure, hardness and surface resistivity, which makes it possible to satisfy even complex packaging needs. Since then, our customers' expectations have shifted to complex packaging solutions, demanding a more flexible, high quality customer service.
IV. Quality control and sustainability
Quality control is governed according to the ISO 9001 standard, and we are open to implement policies that can help us cooperate with our partners on the long run. Sustainability is also a key element in our day-to-day operation, as we are constantly looking for new environmentally friendly materials, as well as trying to minimise our need for packaging materials through smart design. On top of this, our plant in Felsőpakony is equipped with several mechanisms that reduce our carbon footprint, such as a geothermal heat pump, solar panels, as well as a rainwater utilisation system.
Packaging Design
Our team of award-winning design engineers readily provide solutions for new products. We are also specialised in revising existing packaging designs.
Prototyping
Based on the design, our colleagues can produce samples of packaging products at great speed, using our precision prototyping equipment.
Manufacturing
Using our versatile, modern machinery, we are capable of satisfying a wide range of customer needs, including pilot-scale to mass production.
Tolling Agreements
In case we have free capacities, we take on outsourced processing tasks, such as lamination, die cutting, and kitting.
Testing
We have excellent contacts with material science labs that can readily conduct tests on packaging and construction materials.
Logistics
Our fleet is available for local shipment of goods. If needed, we can offer some of our storage capacities.
Governmental and EU Tenders
VEKOP-1.2.1-16-2016-00018
Capacity-increase at Thermofoam's plant in Felsőpakony
Within the framework of the Competitive Central-Hungary Operative Programme, the Deputy State Secretariat for Regional Development Programmes awarded our company a governmental grant worth 24,000,000 HUF.
We purchased two electric stackers, one box glueing machine, one flatbed die-cutter and one hydraulic die-cutter.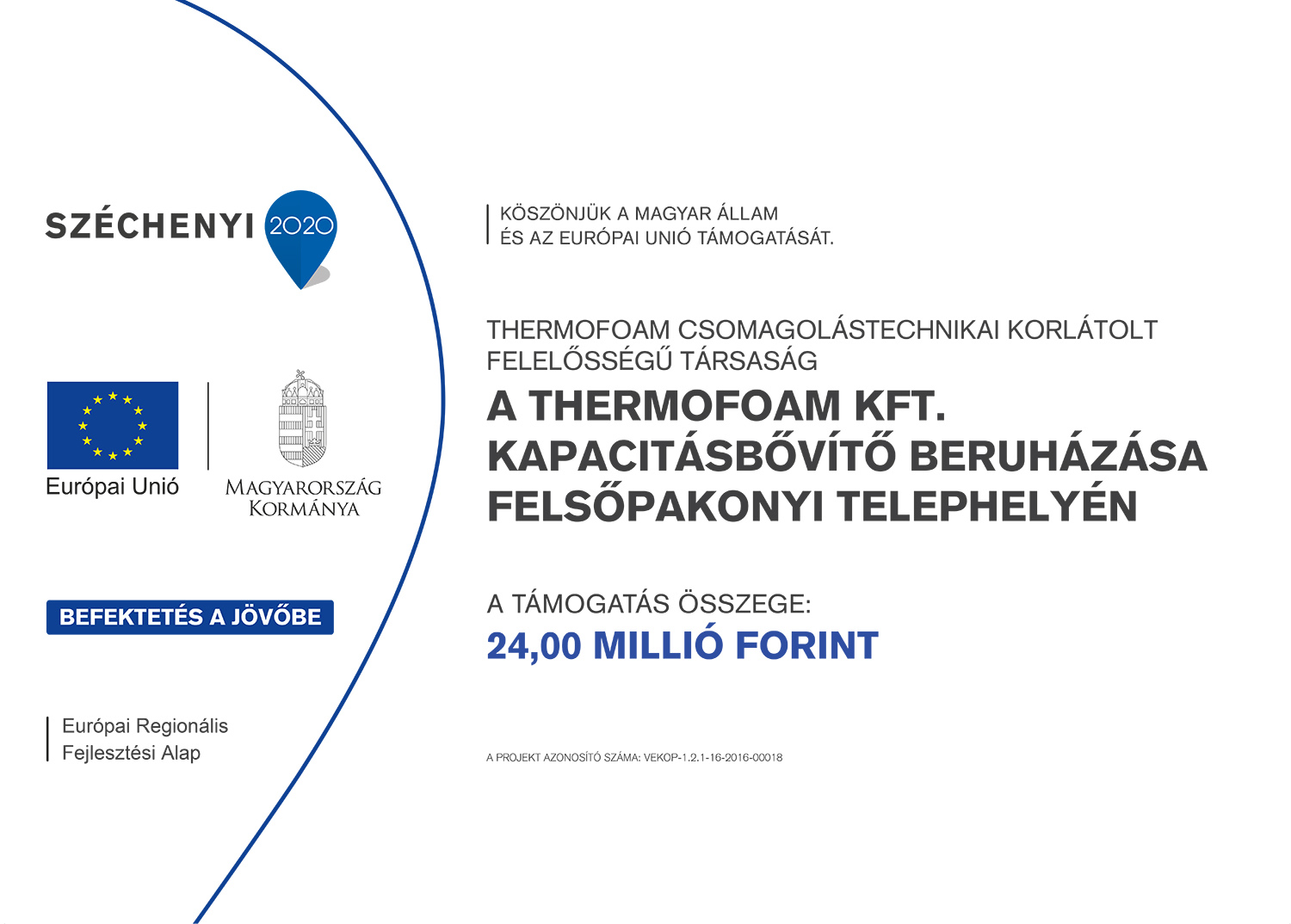 GINOP-2.2.1-15-2016-00010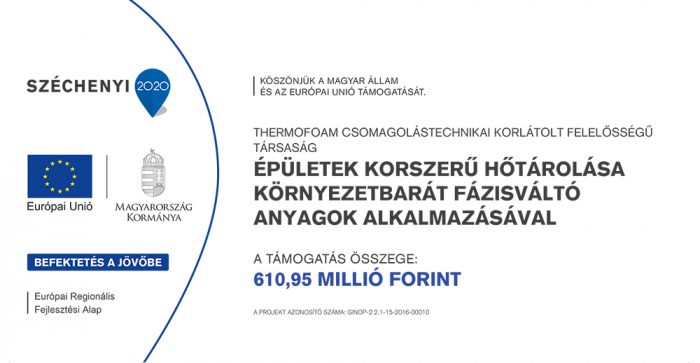 In collaboration with the University of Pannonia and the Hungarian Academy of Sciences, our company undertook a 3-year long R&D project, funded by the Széchenyi 2020 Programme. The consortium's aim was to develop a construction material that is able to store energy in buildings by the application of phase change materials.
For more information, please visit http://www.biopcm.hu/.
GINOP-1.2.2.-15-2015-01873

Development of production facilities in Bácsalmás
The company was awarded a grant in the framework of the Economic Development and Innovation Operational Programme. With its aid, we were able to renovate our plant in Bácsalmás, and purchase a variety of equipment: one plotter, two forklifts, one screen printer and one ultrasonic welder.
KFI-16-1-2016-0106

Thermofoam was awarded a grant by the National Research, Development and Innovation Office to develop a packaging system containing phase change materials. During the 3-year-long project, we managed to create solutions for the long-distance transportation of blood, medicine and cosmetics. Also, our new product range can be used for food deliveries, too, keeping meals hot for a longer time.
Company values and vision
Quality assurance policy
Our company has been operating according to the ISO 9001 standard since 2004. We also provide tailor-made solutions for strategic partner.
Approach to partners
We are dedicated to satisfying our customers' needs. Our goals not only include winning and completing tenders, but we also want to establish long-lasting partnerships.
Sustainable development
On top of our eco-friendly investments, such as  our geothermal heat pump and rainwater utilisation systems, we are passionate about helping our planet, by offering new, eco-friendly packaging designs, as well as construction materials. 
Dear Partner!
Some of our details changed on 1 June 2019. Please, take note of our new official address, company registration number and VAT identification number!
2363 Felsőpakony, Csarnok utca 1.
Address
Csarnok út 1 Felsőpakony
H-2363
Hungary
Phone number
+36 1 265 0169
E-mail
info@thermofoam.hu
Impressum
Name: Thermofoam Kft.
Headquarters, postal and billing address: Csarnok út 1, Felsőpakony, H-2363, Hungary
Office hours: 8:00 – 16:00 (CET)
Company registry number:
13-09-200002 Budapest
Hungarian VAT number: 12593776-2-13
VAT identification number: HU12593776
Hosting service provider:
Mantagora Kft.
Bóbitás út 53, Budapest, H-1164
info@mantagora.hu